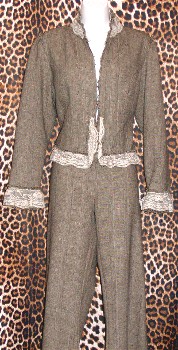 Vintage Zoe D. Pant Suit
This vintage Zoe D. Pant Suit is a runway masterpiece! Made of a mélange tweed-like fabric, with fabulous details and lace! (The fabric is Polyester, Wool and Acrylic blend.) The pant suit's jacket is fully lined.
The jacket (absolutely gorgeous!) has oversized but hidden hook and eye closure.
The pants are the latest style: high waist, belt loops, and slightly flared legs.
Jacket's size: PXL
Jacket's measurements
chest: 46"
length: 25"
Pant's size: PL
Pant's measurements
waist: 34"
Lenth: 41"
Condition: gently worn but in a very good condition
Original price: $489.00
Vintage in like new condition price: $175.00
Don't allow details to distract you from the fact that this Vintage Zoe D. Pant Suit is SENSATIONAL!