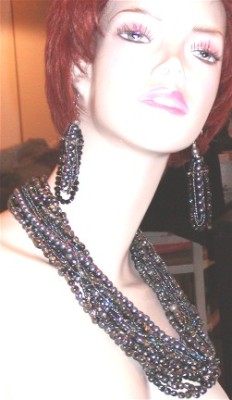 Vintage Gray Pearl Jewelry
If you like dark pearls in various shades of gray, this Vintage Gray Pearl Jewelry Set (Gray Pearl Necklace and Gray Pearl Earrings) is for you. That's not some traditional pearl necklace; some conventional pearl earrings; or some old-fashioned jewelry set. THIS is a statement; it says: "I have personality; I have style". The pictures give some impression of the concept (especially, of the necklace which is chunky and luxuriously heavy). Unfortunately, they don't show the exact shade of color which falls on the noble side of black and gray. Bottom line: this designer jewelry set has the timeless class of pearls and a cutting edge artistic design.
This Vintage Gray Pearl Jewelry Set is made of synthetic pearls; it cannot be denied however that it's been designed and made by a genuine artist!
Vintage in excellent condition.