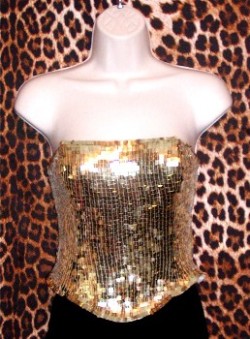 Vintage Gold Sequin Silk Bustier by Basix ii
This is a sizzling hot Vintage Gold Sequin Silk Bustier by Basix ii. The fit is simply stunning; check the bottom of the bustier. The stunning golden sequins aren't round but square! The fabric is 100% Silk. There is a side zipper.
This Vintage Sequin Silk Bustier by Basix ii is a glitzy and affordable wardrobe staple. Why? Because it can replace an evening gown (just add a dressy long skirt or slacks) and / or add glamour to a boring suit for a dinner date right after work. (Of course, there's no reason not to wear it to any hot cocktail party, no matter how you choose to wear it: this bustier will rock any old jeans, too…. )
Condition: new, without labels
Original price: $245.00
Vintage Designer Clothing price: $75.00
Size 4
Measurements
chest: 32"
waist: 30"
length: at its longest 12"
at its shortest 9.5"
This is a stunning vintage bustier and a wise investment!