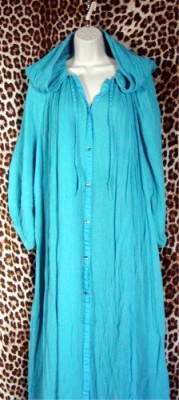 Vintage Beach Coat One Size
This Vintage Beach Coat is magnificent turquoise; made of natural fiber (100% crinkled, no iron, Cotton). It may not look striking on the picture but it is in fact, SPECTACULAR as a beach cover-up! Full length, buttoned front, long sleeves with elastic that can be easily pulled up; the tour de force however is the HOOD. That's not one of those skimpy hoods you can never wear, this one is outright magical: you can wear it and you will want to!
Size: One size fits all
This Spectacular Turquoise, Cotton Beach Coat is Vintage and in very good condition.