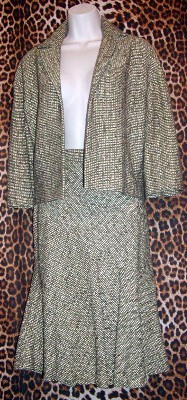 Vintage Anne Klein Designer Skirt Suit
This vintage designer skirt suit by Anne Klein is a piece of art! The style is a recent take on the 60s (worn in the past by Audrey Hepburn and Jackie Onassis among others and much liked by Katie Couric, today). The jacket – with elaborately set ¾ sleeves is a nice A-Line. The skirt blends two distinctly different and yet, perfectly harmonious styles: a bias-cut on the top and, somewhat fishtail, flared bottom. (The skirt reaches just below the knee.)
The fabric looks like tweed; in fact it's a blend of Cotton and Nylon that's Polyester-coated. Fully lined jacket and skirt.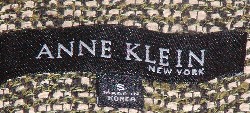 Condition: vintage and gently worn; perhaps once or twice; the condition is like new!
Top's size: S
Skirt's size: 4
Jacket's measurements
Bust: 38"
Length: 22"
Skirt's measurements
Waist: 30"
Hips: 40"
Length: 23"
Original price: $798.00
Pre-Owned price $325.00
This Vintage Anne Klein Designer Skirt Suit is absolutely STUNNING!
Categories: Designer Skirt Suits, S, Vintage Designer Skirt Suits.
Tags: Anne Klein, Audrey Hepburn, Designer, Jacket, Jackie Onassis, Katie Couric, like new, skirt, Skirt Suit, vintage, Vintage Designer Clothing.