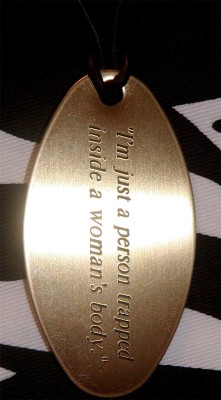 Humorous Quotation Pendant FOR A FEMALE
Life takes some strange turns and everybody – including the female of our species – can occasionally use encouragement, inspiration, motivation or… humor.
The Quotation Pendant featured below is perfect for lifting your own spirit as well as the spirit of a female relative or friend. It features the famous quotation by Elayne Boosler: "I'm just a person trapped inside a woman's body."
The pendant is made of solid brass (with a lacquer finish to prevent tarnish) and has a velvet necklace. The pendant measures nice 2,5″ x 1,25″ which means that the quotation can actually be read (without a magnifying glass) by the wearer AND others.
This quotation pendant ships in a gold jewelry box by Priority Mail.