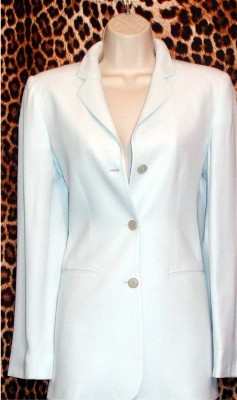 Emporio Armani Vintage Blazer
This is a classic Emporio Armani Vintage Blazer! As fabulous as it looks. As hot today as it was in the 90s.
This gorgeous little classic is made of viscose and acetate poplin and is fully lined.
Casual, classy and classic Armani!
Condition: Mint
Size: S
Measurements
Bust: 34"
Hips: 36"
Length: 29"
The one thing that is next to impossible to identify is its color. Generally speaking, it's off-white. Depending on the light it could be either extremely pale shade of baby blue or just as extremely pale Soulful Seledine shade of green.
Original price: $389.00
Pre-Owned price: $155.00